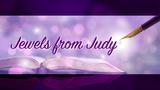 Jewels from Judy: DO NOT BE DISSUADED – YOU ARE MORE THAN A CONQUEROR THROUGH CHRIST WHO LOVES YOU!
Judy A Bauman

Sitting with the Lord I hear His still small voice say, "There is something I have been longing to tell you." While I am pleased to hear His voice, this comment tells me that I have not been paying attention to Him as I should. I apologize for being so distracted by life and He immediately acknowledges my apology and answers, "It is the scheme of the enemy to distract and dissuade My people."

The word "dissuade" jumped out at me, so I looked it up in the dictionary. It means: "To persuade someone not to take a particular course of action." I found the synonyms very insightful too. To discourage, prevent, deter, hinder, caution, divert, restrain, turn away, disincline, to make difficult, to warn, to alert, to be unwilling, to advise, to admonish, to frustrate, to act as an obstacle.

The Lord continued, "Remember, your enemy reverts back to what has worked in the past to discourage and dissuade My people from My purposes. I have given you each My inexhaustible power, My everlasting, all-encompassing, approving love, and a sound and well-balanced mind – the mind of Christ. I have given My people, who are called by My name, the ability to go into a battle knowing they have already won.

"This is what the apostle Paul meant when he wrote that you are, 'more than conquerors,' and you are more than conquerors because you can go into a battle knowing you have already won. You win because I love you."

Your Ever-present Help in times of trouble
~
Scripture References:
Ephesians 6:10-13; Second Timothy 1:7; First Corinthians 2:16; Second Chronicles 7:14, Romans 8:37
Subscribe to our Email
Please sign up for email notifications of new blogs here.



Latest Posts
Archive
Categories