Thursday, October 31 2019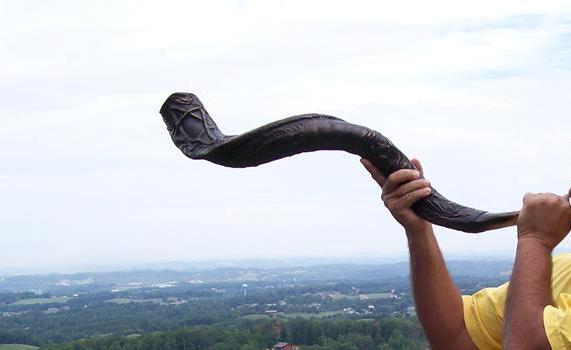 Jewels from Judy: Strike the Ground and Blow the Shofar!
Judy A Bauman


For the weapons of our warfare are not of the flesh but have divine power to destroy strongholds. 2 Corinthians 10:4 ESV


The other day I read a word by Lana Vawser about striking the ground, and I've been praying about what it means, why to do it, and what exactly the Lord wanted me to use if I were to strike the ground. Honestly, I kept thinking to hit the ground with my shofar (ram's horn), but also knew I needed to strike the ground hard and didn't want to break my cherished instrument! Something didn't seem right, and I wasn't going to go forward with this action until I had clarity.

This morning I found myself praying about this again, and in my mind's eye, I saw a bristle brush I had put on an extension handle. I constructed it specifically to clean off a hard to reach section of my roof where leaves get caught. I got this tool and struck the floor in my living room hard three times with it. It was interesting that I was to use this instrument because it isn't something I would have considered; but then again, God's ways are not our ways!

After I struck the floor, the Lord had me take my shofar and then blow it three times in my house and declare His will over my family and bloodline, and then come against the antichrist spirit that is trying to win the minds of the next generation. He had me pray against the things that have drawn them into the enemy's lair and prayed that those sins and distractions drawing people away from God's purposes to become distasteful and uninteresting to them. I prayed that loved ones who have refused to follow Jesus would lose interest in those things that have, by their own freewill, held them captive. I prayed for encounters with God that would change everything! I prayed for a deeper revelation of the Father's love for us and that we would serve him with a greater sense of purpose and direction. I am a novice at blowing the shofar, so I am never sure how it is going to sound. Each time I blew the shofar it seemed high-pitched and there was a desperation in its sound – like that of an animal caught in a trap.

Then the Lord had me go outside and blow the shofar three times. The first was a high sound, like in the house, but the next two were low and long. It sounded like mournful moaning for the prodigals to come home.

As I walked inside, I saw the bristle brush and thought about how aggressive it is for cleaning. This brush is not one you would ever use on floors but on concrete or decking. I thought of David asking the Lord to purge (purify) him with hyssop and he would be clean. This plant has medicinal properties and was also used in ceremonial cleansing. Interestingly, hyssop is what the Lord instructed Moses to dip in the Passover blood and apply to the lintel and doorposts! (See Exodus 12:21-23)

The extension rod reminded me of God's far-reaching mercy and how He extends His love and grace when we stray. He is so good to listen for us, even if it is a moan from a far distance! Where can we go from Your Spirit, Lord? Thank You, Abba Father!

The Shofar is the trumpet referenced throughout Scripture and is used in many Hebraic ceremonies. Consider these historical accounts shared in the Bible about the shofar. After the trumpet was blasted long and loud, Moses spoke, and God answered with voice (Exodus 19:19). The Day of Atonement is followed by and celebrated with The Feast of Trumpets. When the priests blew the ram's horns in Joshua 6 as instructed, the people shouted, and the walls of Jericho fell to the ground! I love the story in Judges 7 where the Lord had Gideon's army use it to confuse the enemy (whose number was so vast they are described as being like locust and their camels being like sand on the seashore)! God brought victory through the unlikely instrument! The shofar is used to signal warning or to advance in war, declare victory, worship God, and no doubt many more things. The amazing thing is what God does in the enemy's camp with what may seem a silly thing. Strike the ground, blow the shofar was my directive this morning and I share it with you because there is something He will do with it for you that is beyond me. His ways are not our ways! Selah!

Photo Credit: Sue Minns taken of Haddon Minns blowing his shofar over Israel.
Subscribe to our Email
Please sign up for email notifications of new blogs here.



Latest Posts
Archive
Categories