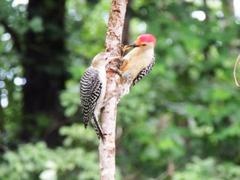 Jewels from Judy: Lessons from a Woodpecker
Judy A Bauman

https://www.jewelsfromjudy.com/jewels_from_judy_blog

Earlier this week, I posted some photos on Facebook of a male Red-bellied Woodpecker dutifully feeding his juvenile offspring. I observed that one fledgling was already going to the suet feeder on its own, while the other would chirp and flutter its wings to signal its hunger. This one constantly followed its daddy from the tall poplar tree in my yard, to the feeder and back again. I enjoyed watching the loving care this doting father was giving to it.

On Tuesday night, I was sitting on my deck on a very important phone call. Suddenly, I saw a resident hawk dive down onto something in that large tree, and then flew with it to the ground. I couldn't clearly see what it was, but heard the sound its prey made; sadly, I was sure it was that juvenile woodpecker. Immediately, the daddy woodpecker swooped at the hawk to its rescue, but the hawk took off with its prey held tightly in its deadly grip! Other species of birds immediately came to help. Blue Jays joined the woodpecker in pursuit, and together with some other birds, they made a loud cacophonous noise. I looked on as they chased the hawk in vain, and soon the sky soon grew grievously quiet.

After I finished my call, I diligently searched for the young woodpecker in the tree, but deep down I knew it was the victim. I tried to remain hopeful that I would spot it, thinking perhaps instead of the juvenile woodpecker, an unwanted rodent had become hawk's meal. Of course, that was unlikely given all the birds that pursued the hawk after it attacked. As I continued to watch for the fledgling, I saw the daddy come to the feeder, get a mouthful of suet, wait, and look at all the familiar places his baby would land. Sadly, his little eager eater never came.

I have seen this happen in nature before, and normally I'm very practical about it; however, this incident upset me tremendously! I could not get a grip on my emotions and wept as if I had lost a loved one. I kept telling myself that it was ridiculous to carrying on as I was, but the grief overwhelmed me. I prayed and asked the Lord why I had such a strong, exaggerated reaction to this event. I believe He has showed me several important things, which is why I am sharing this with you.

While seemingly a small thing, it was like the straw that broke the camel's back. The night before, I had watched two hours of the evening news, which I normally strictly limit. I was shocked at the number of people in my city (ATL) that have lost young family members this week to senseless acts of crime, auto accidents, and drownings. I have felt badly for the parents, family and friends, and in every case that I heard about, there was a common theme. Like the daddy woodpecker, there didn't seem to be anything the parents could have done to prevent it.

As our children grow, it is impossible and inappropriate to be with them at all times. We can keep guard for their safety, but there is a point where they have to start watching for themselves. Unfortunately, something can happen that tragically takes them from their loving family. This is when we must join in, as the blue jays did for the woodpecker, and pray for the grieving parents, family members, and community. The Father hears our prayers and He will comfort those who mourn. That is His promise!

The Lord revealed something else through my grief, and that is His deep grief when the enemy snatches a little one from Him. We know it's not because He is too weak to keep it from happening. He's God!!! These things happen because He's given mankind freewill and He will not take it from us – even if He sees we are making poor choices. That is huge!

Peter warned that we are to be sober and vigilant, because the devil is like a roaring lion seeking to devour. It is not God's will for us to suffer theft, to be killed or destroyed. Jesus came to give us life in abundance. From this, we can easily discern what workings are God's, and what things our adversary causes. Anyone saying that God brings premature deaths, diseases, and calamity (to teach us a lesson, humble us, etc...), is mistaken. They are not receiving that message from the Lord or from Scripture. Reject what they are saying, as they do not know the true heart of the Father's love or His faithfulness to those whom Christ gave His life. God cares for the birds of the air. How much more does He care for us? He is our Father, our Provider, our Healer, our Ever-present help in times of trouble (and so much more).

As I sat this morning to have my coffee, journal, and study, I looked out the window and it blessed me to see the other fledgling. This one approached feeding time differently than the one that was snatched. It had observed its daddy go to the feeder, and it did likewise. This one learned to feed itself. The other one made a lot of noise, constantly fluttered its wings, and made a scene. While it got its daddy's attention, it also caught the hawk's watchful eye. We see which one survived.

The Lord was showing me through this how we often rely on our pastor or others feed us spiritual truths. While it's natural to want someone else to feed you when you are young, there is a time to learn how utensils work. We have to grow up and learn to feed ourselves spiritually, and rightly divide the Scriptures. How else can we know if what we've been taught is the truth instead of a gray, dim, or twisted version of it? We must learn to "be still and know that He is God" and that "He is the Rewarder of those who diligently seek Him." The anointing resides in us by the Holy Spirit for the expressed purpose to teach us all things; but we must guard and develop it. This is the Lord's will and I pray we walk in it. Amen

In the Father's abiding love,
Judy A Bauman

~
1 Peter 5:8 Be sober, be vigilant; because your adversary the devil walks about like a roaring lion, seeking whom he may devour.
~
John 10:10 "The thief does not come except to steal, and to kill, and to destroy. I have come that they may have life, and that they may have it more abundantly."
~
Matthew 6:26 "Look at the birds of the air, for they neither sow nor reap nor gather into barns; yet your heavenly Father feeds them. Are you not of more value than they?"
~
2 Timothy 2:15 Be diligent to present yourself approved to God, a worker who does not need to be ashamed, rightly dividing the word of truth.
~
1 John 1:26-27 These things I have written to you concerning those who try to deceive you. But the anointing which you have received from Him abides in you, and you do not need that anyone teach you; but as the same anointing teaches you concerning all things, and is true, and is not a lie, and just as it has taught you, you will abide in Him.
~ Scripture taken from the New King James Version®. Copyright © 1982 by Thomas Nelson. Used by permission. All rights reserved.~
Subscribe to our Email
Please sign up for email notifications of new blogs here.



Latest Posts
Archive
Categories